Ostreococcus
Ostreococcus tauri (Prasinophyceae, Mamiellales) belongs to eukaryotic picophytoplankton. The genus Ostreococcus has a worldwide distribution and ecologically significant contribution in several marine ecosystems. Discovered in the Thau Lagoon, O. tauri has been described as the smallest free-living eukaryote. The cellular ultrastructure of Ostreococcus sp is extremely simple and the genome is very compact with little gene redundancy. The implementation of techniques of functional genomics based on genetic transformation, have recently promoted O. tauri a new model to study conserved biological functions such as the circadian clock and more generally responses to environmental stresses.



Useful links
Genome browser
Search mutant
Order mutant
Genetic ressources
Available data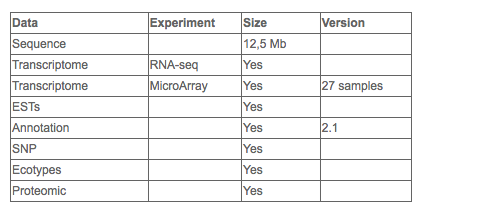 Genome V2.1 is avalaible on picoplaza . It integrates latest RNAseq and annotation data.

Transgenic lines are available, including genotyped mutants, luciferase reporter, knock out/knock in by homologous recombination, overexpression and knockdown.

Custom-made transgenic lines can be produced on request, using genome editing technologies and homologous recombination (Lozano JC, Schatt P, Botebol H, Vergé V, Lesuisse E, Blain S, Carré IA, Bouget FY. Plant J. 2014 Jun 78(6):1073-83).
Available individuals
There is 10.000 strain archived (15.000 insertions). They are under sequencing so edge data will be available in future. There is no phenotyping in progress.
Toolbox
Plasmids:
pOtox vector, FN554877
pOtLuc vector, FN54878
pOtoxLuc vector
Maps available :
Corellou et al., Clocks in the green lineage: comparative functional analysis of the circadian architecture of the picoeukaryote ostreococcus, Plant Cell 2009
Moulager et al.,Integration of light signals by the retinoblastoma pathway in the control of S phase entry in the picophytoplanktonic cell Ostreococcus, PLoS Genetics 2010
Culture:
Standard culture medium based on Keller or artificial seawater type (Djouani Tahri et al., A Phosphate-Regulated Promoter for Fine-Tuned and Reversible Overexpression in Ostreococcus: Application to Circadian Clock Functional Analysis, PloS one 2011)
Contact:
François-Yves Bouget, Laboratoire d'Océanographie Microbiologique, UMR 7621, Observatoire Océanologique Laboratoire Arago, BP 44 66651 Banyuls-sur-Mer
External links:
Pico-plaza :
Ostreococcus tauri
Ostreococcus lucimarinus
Ostreococcus sp RCC299
Orcae :
Ostreococcus tauri
MicroArray data :
Geo (NCBI)